It's that time of year for high school seniors: applying for college and learning how to pay for college. To help alleviate the pains of paying for college, the Washington State PTA offers three $3,000 scholarships and one $1,000 scholarship to graduating seniors from Washington State high schools, with active PTAs within them that will be starting college (either two-year or four-year) in the fall of 2018. Begin the scholarship application here.
FAFSA Resources
On October 1, the 2018-19 Free Application for Federal Student Aid (FAFSA) became available. Completing the FAFSA is critical to getting acc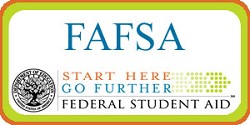 ess to grants, loans, and work-study funds. Moreover, it is free, quick (on average, taking less than 30 minutes), and easy. To make sure that students do not leave money on the table, the U.S. Department of Education has prepared a number of blog posts:
• 7 Things You Need Before You Fill Out the FAFSA
• 8 Steps to Filling Out the FAFSA
• 12 Common FAFSA Mistakes
• The Parent Guide for Filling out the FAFSA
Visit StudentAid.gov for complete information on federal financial aid, including types of aid available, qualification criteria, and managing loans.
For more information on the WSPTA program visit our website. Thank you and good luck to each applicant!