WSPTA Essay Contest
---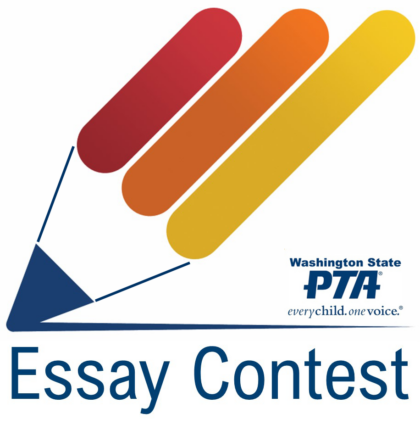 This statewide essay contest explores the important and varied influencers in the lives and education of children – from the children's perspective. Every day children are exposed to a variety of people and each one has an opportunity to influence the path a child decides to take. Whether it is someone that sparks an interest in a new topic, helps them work through a problem, shapes the kind of person they want to become by modeling behavior, simply listens to them, or any number of other actions, this is the platform for students to share their appreciation. The application deadline is March 1 each year.
Please mail submissions to:
Washington State PTA
Attention: WSPTA Essay Contest
15 Oregon Avenue, Suite 202
Tacoma, WA 98409-7463
Or email to: WSPTAEssay@wastatepta.org
WSPTA Essay Contest Winners 2020 are located on the Student Showcase page.
Contest Guidelines
To help celebrate the people that are most important in influencing the lives of children around the state of Washington, the objective of this contest is for students of all ages and abilities to write an essay about an influential role model that has had a profound impact on their life. The influential role model must be a real person that the student has interacted with, not a fictional character. These essays, from the students' perspectives, will serve to inspire and acknowledge amazing individuals.
Students may consider many questions when writing their essays including (but not limited to):
Why is this role model important in your life?
What life lessons, ethics, or skills have the influential role model taught you?
Why do you look up to this role model and appreciate having him or her in your life?
How would your life be different without this role model?
How would other kids benefit from having a similar role model in their lives?
Essay Contest Participation Guidelines
Essays will be scored on the current state learning standards for writing and will be scored on content, organization, language/conventions, and style per the program judging form.
Deadline for submissions: postmarked no later than March 1 each year.
Entries must include a completed and signed WSPTA Essay Contest application form, typed or handwritten legibly on an 8 ½" x 11" sheet of paper, and be no more than 650 words.
One entry per student; multiple entries from one student will be disqualified.
Students may submit entries every year, but may only win once in each division.
Open to students in K-12. Young authors get involved through their local PTA or PTSA.
Each entry must be an original, not be written by a parent or professional, has not previously won a prize, and does not infringe upon the copyright or other proprietary rights of any third party.
Awards will be presented at the WSPTA Student Celebration in the Spring.
Participation Application Form and Resources
Address for submitting an application: 15 Oregon Avenue, Suite 202, Tacoma, WA 98409-7463
The judging form is provided here for informational purposes only. Do not submit the judging form with the completed application and essay.
Divisions
Elementary division (kindergarten – 5th grade) and
Secondary division (6th – 12th grade)
The Special Author division is an option for students with disabilities who receive services under IDEA or Section 504 to have the opportunity and accommodations they may need to participate fully in the program. The Special Author division offers modified guidelines to ensure that every student has the chance to be part of the program.
In order for a child to be covered under IDEA they have to have a disability such as mental retardation, autism, serious hearing impairments or be deaf, speech and language impairments, blindness and other visual troubles, physical disabilities, traumatic brain injuries, and serious emotional disturbance that impedes daily functioning.
Allowable accommodations include:
Use of adaptive technology.
A parent, teacher, or another adult may assist with typing.
Assistance MAY NOT INCLUDE the actual writing or editing of the submission.  All submissions must be solely created by the Special Author.
Use a combination of drawing, dictating, and writing to compose informative/explanatory texts in which they name what they are writing about and supply some information about the topic.
Write informative/explanatory texts in which they introduce a topic, use facts and definitions to develop points, and provide a concluding statement or section.
Write opinion pieces on topics or texts, supporting a point of view with reasons.
Introduce the topic or text they are writing about, state an opinion, and create an organizational structure that lists reasons.
Provide reasons that support the opinion.
Use linking words and phrases (e.g., because, therefore, since, for instance, in order to, in addition, consequently and specifically for example) to connect opinion and reasons.
Provide a concluding statement or section.
Write arguments to support claims with clear reasons and relevant evidence.
Introduce claim(s) and organize the reasons and evidence clearly.
Support claim(s) with clear reasons and relevant evidence, using credible sources and demonstrating an understanding of the topic or text.
Use words, phrases, and clauses to clarify the relationships among claim(s) and reasons.
Establish and maintain a formal style.
Provide a concluding statement or section that follows from the argument presented.
Write narratives to develop real experiences or events using effective technique, well-chosen details, and well-structured event sequences.
Use narrative techniques, such as dialogue, pacing, description, reflection, and multiple plot lines, to develop experiences, events, and/or characters.
Use a variety of techniques to sequence events so that they build on one another to create a coherent whole.
Use precise words and phrases, telling details, and sensory language to convey a vivid picture of the experiences, events, setting, and/or characters.
Provide a conclusion that follows from and reflects on what is experienced, observed, or resolved over the course of the narrative.
Men's Essay Winners
Note: The WSPTA Essay Contest was formerly known as the PTA Men's Essay Contest. Although the name has changed and the focus has shifted, the guidelines and divisions remain the same.
Special Author Division:
Ernie Walter, 4th grader, Norman Rockwell PTA 2.8.47
"My Grandpa".
Grade Level Kindergarten:
Aishwarya Anandh, Norman Rockwell PTA 2.8.47,
"My Brother"
Grade level 1-2:
Shaivi Murthy, Fernwood PTSA 6.10.16
"My Dad is My Hero"
Grade level 3-5:
Mya Cato, Silver Firs PTA 7.3.44
"A Simple Life That Makes A Difference"
Grade level 6-8:
Diya Kamboj, Heatherwood PTA 7.3.71
"I Treasure My Grandfather"
Grade level 9-12:
Aashika Vishwanath, Issaquah High School PTSA 2.6.45
"Moves That Matter"
To be inspired by these young authors watch as they read their heart-felt essays on our YouTube channel.
Grade level Kindergarten:
Rayna Jaisalmeria, Rosa Parks PTSA 2.8.43, Redmond
Grade level 1-2:
Elizabeth Knill, Penny Creek PTA 7.3.42, Everett
Grade level 3-5:
Yvonne Pan, Cedar Wood PTA 7.3.3, Bothell
Grade level: 6-8:
Sruttika Srinivasa, Leota Middle School PTSA 6.10.65, Woodinville
Grade level 9-12:
Sam Hollenbeck, Inglemoor High School PTSA 6.10.75, Kenmore
To be inspired by these young authors watch as they read their heart-felt essays on our YouTube channel.