Reflections
---
Reflections Program Overview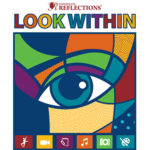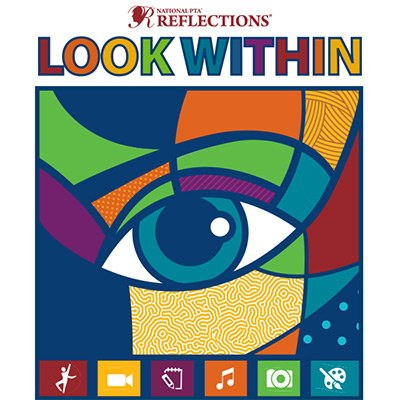 The Reflections Program is a National PTA and Washington State PTA cultural arts competition.
The purpose of this program is to provide an opportunity for students to use their creative talents by expressing themselves through their own original works.
Young artists get involved through their local PTA or PTSA. A student may submit an entry in any of six arts areas. Only original works of art are accepted. The six art areas are: Visual Arts Photography, Literature, Music Composition, Dance Choreography, and Film Production.
Questions?
Contact the WSPTA Reflections Chair: reflections@wastatepta.org
Click here to see National PTA's 2020 Reflections Call for Entries video.
Young artists get involved through their local PTA or PTSA. A student may submit an entry in any of six arts areas. Only original works of art are accepted. The six art areas are:
Literature – works of fiction, nonfiction, poetry, prose, drama, short stories and lyrics.
Music Composition – original musical composition, with or without words.
Photography: color or black and white, included techniques: photogram, negative sandwich, and multiple exposure.
Visual Arts: drawing, painting in tempera, oil, acrylic, watercolor & t-shirt paints, computer generated art, two-dimensional collage, printmaking, needlework & leather tooling.
Film/Video: original works, with or without sound, of animation, narrative, documentary, experimental or music video/film.
Choreography/Dance: originally choreographed dance composition.
Participation is organized by student age and grade levels. Student works are critiqued against others in the same grade division. This allows recognition and judging of artworks by appropriate developmental age and skill levels. The grade divisions are:
Primary: Preschool – Grade 2
Intermediate: Grades 3 – 5
Middle School: Grades 6 – 8
High School: Grades 9 – 12
Entries are judged on creative ability and interpretation of the theme. The program is structured for PTAs to recognize students at the local, council, state, and national levels. Entries are first judged at the local level and selected works are chosen to represent the PTA at each subsequent level. If a PTA is a member of a council, they will send the chosen entries to the council program according to the guidelines established by their council. If a PTA is not a member of a council, they will submit their entries directly to Washington State PTA.
Once entries reach the state-level, the state PTA may select one entry (Outstanding Interpretation Award) per grade division, per arts category (a total of 30) to submit to the National PTA. National first, second, and third place, and honorable mention entries are recognized at the National PTA Annual Convention.
All PTAs/PTSAs in good standing may sponsor the program. Students may only submit entries through a PTA/PTSA. Parent groups not affiliated with the National PTA are not eligible to sponsor this program.
The National PTA special artist division is an option for students with a disability as defined under the Americans with Disabilities Act(ADA). Generally, rules and guidelines within the special artists division are intended to ensure accessibility to the National PTA Reflections® program and are modeled after the guidelines outlined in the Americans with Disabilities Act (ADA).
Complete details are included in the 18-19 Special Artist Rules.
Category Rules and Entry Form
The theme is determined by National PTA, from student submissions. The due date for submitting a theme search entry is November 1, 2018. Entries are to be emailed to support@wastatepta.org or mailed to the WSPTA office (1304 South Fawcett Avenue, Suite 300, Tacoma, WA 98402). This is not a postmarked date.
Would you like to be part of the WSPTA Reflections Committee? We are looking for members with local, council, or state Reflections experience to join the committee for 2019-20. Find out what happens to your students' art after you submit it and be a part of a program that serves all PTAs in Washington state! The committee is most active between January and May; tasks take place at convention and much can be done from home.
Frequently Asked Questions
Is the online process required?
In Washington, all local PTAs and councils are required to register and advance student entries through the National PTA Student Entry Portal. Any waivers of the online requirement must have prior approval of the WSPTA Reflections® chair.
What is the deadline for submitting Reflections entries?
Each local PTA and council sets it own deadlines. If your local PTA is part of a council, the local PTA must submit entries by the council's deadline; so plan your program accordingly. Contact your council to find out the deadline.
The due date for Reflections entries to be received at the WSPTA office for a council or non-council local PTA is January 18, 2019.  This is not a postmarked date.
Where do we send student entries?
If your PTA is part of a council, contact your council Reflections chair to find out where and when entries should be delivered. A local PTA which is part of a council cannot send entries directly to WSPTA.
Councils and non-council PTAs send entries to the WSPTA office:
Washington State PTA
c/o Reflections Chair
1304 South Fawcett Avenue
Suite 300
Tacoma, WA 98402
How may entries can we send to WSPTA?
Local PTAs that are members of a council need to follow council Reflections instructions to determine how many entries may be forwarded to the council-level of the competition. The number of entries that non-council and council PTAs may forward to WSPTA depends on participation in the Reflections program. Details can be found in the Reflections handbook.
What is the 2019-2020 Reflections theme?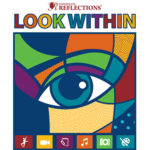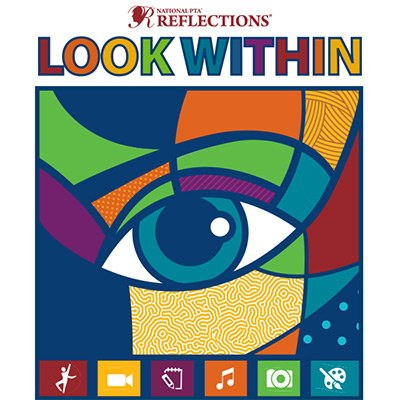 The 2019-20 Reflections theme is Look Within.
The theme is determined by National PTA. Students may find more information above under "Theme Search".
How do I know if my PTA is part of a council?
Who can enter the art contest?
Reflections is a National PTA arts contest open to students in grades pre-K through 12th grade. Although membership in a PTA is not required to enter, a Reflections program is a benefit of attending a school where there is a PTA. Students must enter the contest through a local grade-equivalent school PTA in good standing. A local PTA may, but is not required to, accept entries from students who do not attend its particular school (i.e. home-school students or students from schools where there isn't a PTA).
Students who do not attend a PTA school, but wish to enter, should contact the Reflections chair at a grade-equivalent school PTA in their district, to ask if their entry will be accepted by that PTA. Find PTAs in your area.
Reflections entries by a student shall not be accepted if submitted directly to a PTA council, Washington State PTA, or National PTA.
Why does the PTA box on the entry form ask for two PTA ID numbers?
Your PTA has both a National PTA number and a WSPTA number. Your local PTA president and/or secretary can provide these numbers to you. Your National PTA number is an 8-digit number that usually starts with zero. Your WSPTA number is divided by periods in between 3 sets of numbers. For example, 2.12.123. Both numbers need to be included on the entry form. Your National PTA number can also be found at https://member.pta.org/Get-Involved/PTA-Local-Unit-Lookup.  Your WSPTA number can also be found at  https://www.wastatepta.org/get-involved/find-your-pta/
Do children have to sign the entry form?
Yes. The entry form must be signed by the submitting student (even if it is only a printed first name) and the student's parent/guardian. If the student is at least 18 years old, only the student must sign.
What does "rigid backing" mean for visual arts and photography entries?
This means that the entry must be mounted in a way that it cannot be folded, rolled, or bent. Acceptable backing includes: foam core, press board, canvas board, cardboard (solid piece, no seams or folds), and thick mat board. Poster board, card stock, scrap-booking paper, construction paper, wood framed canvas, and glass are not acceptable backing materials. Entries not mounted on a rigid backing may be disqualified. An entry that is surrounded by a mat but is not backed to prevent folding, rolling or bending may be disqualified.
How should film and dance entries by submitted?
Film and dance entries must be submitted on a CD/DVD/USB and the entry must be saved as a file on the CD/DVD/USB. This means that when the storage medium is inserted in a computer, the entry shows as a file that the viewer must open. If the storage medium is inserted in a computer and the entry starts playing without the viewer opening it, the entry is not in a file format. Entries not saved as a file may be disqualified. Judges view entries on a computer, not on a TV/DVD player. No video tapes are accepted.
Submit the required number of copies indicated in the rules for Dance Choreography and rules for Film Production.
What are the recommendations for quality recordings?
Make the room you record in as quiet as possible. Close windows and turn off all noise-making devices in the room (air conditioners, fans, telephones, etc.). Do not place the recording device on top of an instrument or speakers. Do not record at too loud a level (in the red zone on the meter) or too soft a level (meter barely moving). Record a short test and listen to it while watching the meter. If needed, improve recording quality by changing the record volume or microphone location. Return to the beginning of the CD and record two seconds of silence; then start performing your composition. Finish with another two seconds of silence.
Can more than one person create and submit the same entry?
No; only one person can submit the entry.
How many entries can one student submit?
Rules allow students to submit in more than one arts category, however, not more than one entry per arts category.
Why are there so many rules? Isn't Reflections a program to encourage kids to be creative?
Reflections does encourage creativity, but it is an art contest. Like all contests, there are guidelines, rules, and deadlines. National PTA requires state PTAs to submit entries to the final level of judging following specific rules and guidelines. WSPTA requires that entries submitted at the state-level follow the same rules and guidelines National PTA requires. At the local PTA level, you are free to accept and award entries that do not meet the rules and guidelines. You should not, however, submit entries to the next level that are not in compliance with the rules and guidelines.
If we have entries that make it to the state-level, how and when will our entries be returned?
WSPTA and National PTA return only visual arts and photography entries. Please keep a copy of all other entries. Entries received at the state-level are returned to your region director at the WSPTA annual convention in the spring. It is the responsibility of the region directors to distribute the entries to their councils and/or local PTAs. If you have not received your entries by the end of May, please contact your region director.
National PTA may keep the entries for up to three years, if the entry becomes part of the National PTA tour.
What is considered copyrighted material, subject to disqualification?
An entrant may use copyrighted material in a Reflections® entry as long as that material is not the primary focus of the entry, or if the entrant is not trying to pass off the copyrighted material as his/her own creation.
For example, if a photograph is taken where someone is wearing a Mickey Mouse shirt, that entry is acceptable as long as the Mickey Mouse character is not the primary focus of the photograph. Even if the entrant takes a photograph of a family with Mickey Mouse at a theme park, that would still be an acceptable photograph if the subject of the photograph is the family and not the Mickey Mouse character. If an entrant creates an entry that includes Mickey Mouse as a primary subject in the artwork, that entry would be infringing on copyrighted material and would be disqualified.
Sometimes, like in the case of a collage, possible copyright infringement would need to be determined on a case by case basis and the WSPTA Reflections chair should be consulted.
I have created a 3D visual arts entry. What do I need to submit?
Check with your local PTA and council to find out if they would like the actual 3D piece or just pictures of the piece. If a 3D entry is moved on to the state-level, only pictures are sent to represent that entry.