Prepared by Marie Sullivan, WSPTA Legislative Consultant, legconsultant@wastatepta.org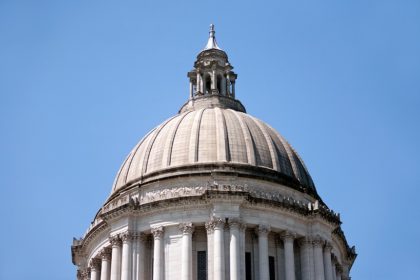 Moments before midnight, it all came together – miraculously! The Senate concurred with the House changes to SB 5313; passed HB 2163, the hold harmless bill, by a margin of 41-7(!), and passed an operating budget in record time. The House also rapidly passed an operating budget and concurred with HB 2140. When they want to move fast, they can. 😊 Here's a quick look at the action.
SB 5313 (Increasing levy authority/LEA):
Changes levy authority to lesser of $2.50/$1,000 or $2,500 per student for districts under 40,000 student FTE, or the lesser of $2.50/$1000 or $3000 per student for districts with 40,000 or more student FTE.
Increases the $1,500 rate to $1,550, and provides local effort assistance to school districts that do not generate or are equal to an enrichment levy of at least $1,550 per student when levying at a rate of $1.50 per $1,000 of assessed value.
Requires school districts, beginning in the 2019-20 school year, to provide an expenditure schedule that identifies the amount expended on certain supplementary enrichment activities.
Requires, should the state auditor find that a school district has used local revenues for non-enrichment activities, the school district's maximum enrichment levy collection must be reduced.
HB 2163 (attached chart) – $58.4 million from the budget stabilization account to 83 school districts who had less money when categoricals were removed from the accounting, when comparing funding in the 2017-18 school year to funding in the 2018-19 school year.
SB 5091 special education passes, increasing the multiplier to a rate of:
In the 2019-20 school year, 0.995 for students eligible for and receiving special education;
Beginning in the 2020-21 school year, either: (I) 1.0075 for students eligible for and receiving special education and reported to be in the general education setting for 80 percent or more of the school day; or (II) 0.995 for students eligible for and receiving special education and reported to be in the general education setting for less than 80 percent of the school day;
Also reduces the safety net threshold;
Funds $25 million in professional development training to help with instructional practices of inclusion, teaching to all students, etc.
Biggest thing is that it delays SEBB for ESDs. Has other little things related to career-connected learning and technical amendment on hold harmless that benefits districts like Tacoma.
Speaking of SEBB, it passed and will be the largest unfunded mandate on school districts in the history of unfunded mandates. Full-time benefits for employees that work at least 630 hours. Funded at $348 million for the biennium (all funds), with per eligible employee rates at:
$973.00/month from September 1, 2019 to December 31, 2019;
$994/month from January 1, 2020 to June 30, 2020;
$1,056/month for the 2020-21 school year.
Good news:
SEL work group put into statute, $400,000 in budget to continue the work and direction for OSPI to adopt the framework and benchmarks;
School lunch demo projects funded at $126,000 for biennium;
A lot of great work on preventing gun violence and improving school safety and safety planning;
Still adding the pieces up, but about $15 million spread across programs for teacher shortage/recruitment and retention;
Work group added to the budget on sexual health education, including three parents;
Delinking passed, even with some challenges on the pathways;
T-21 signed into law;
Significant anti-harassment, intimidation and bullying bill on policies for transgender youth;
Phasing out of the use of jails and detention for non-criminal offenses like truancy and running away from foster homes;
And more.
The biggest disappointment was a the lack of a delay to K-3 class size compliance. This was an area that we just couldn't move the Senate budget chair; hopefully something can be done to help prepare for next school year and the loss of funds. Another disappointment was the inability to change the High-Poverty LAP. But the bill is available for next session.
View the final WSPTA Bill Status – Sine Die List..