PTA Gratitude. Now More Than Ever.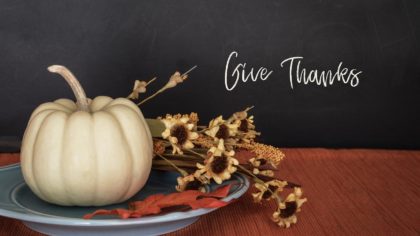 With Thanksgiving on the horizon, I find myself feeling sentimental and thankful for my family and my PTA family, which has been a big part of my life for the past 14 years.  I still treasure the friendships made when my child was in kindergarten, and those people are still part of my life now even though our kids have graduated. We connected through PTA – meetings, planning book fairs and carnivals, counting the fundraiser money and distributing cookie dough – and we have stayed friends even though many of them are not 'doing PTA' anymore now that their kids have graduated.
PTA work can build long-lasting friendships, and that is one of the best side effects of involvement with the shared mission of Every Child, One Voice.  Your time spent with PTA can benefit children today and years into the future. Even when you think 'no one reads my Facebook posts', and 'why I am setting up a Zoom meeting to reach new people and only the same 10 people show up?', please do keep doing those things.  For those 10 people, for those that read the post even if they didn't comment, it matters.  It's worth remembering when we are thinking of giving thanks that we need to thank ourselves and our fellow PTA volunteers for the little things, the big things, and everything in between. YOU make a difference, and without you, PTA and school would be a completely different experience.  Thank you.
Gratitude



Give Recognition for hard work done by your school staff.  Acknowledge the Time spent by families supporting the efforts of the school in educating the children.  Incorporate Thankfulness in your communications with all. Uplift and Deliver Encouragement to your board and volunteers through a personal note or social media post.
Guest post by Teri Davis, Region 3 Director and Acting Region 4 Director