The 1.1 million students of Washington state were represented by WSPTA leaders in Washington, D.C. March 13-15, during the annual National PTA Legislative Conference. The WSPTA delegation was WSPTA President Michelle Nims, WSPTA Legislative Director Nancy Chamberlain, National PTA Board member and WSPTA past-President Heather Gillette, National PTA- and WSPTA- past-President Laura Bay, and Seattle Council PTSA President Sebrena Burr. They heard inspiring and informative presentations from Alissa Parker, co-founder of Safe and Sound Schools; Secretary of Education Betsy DeVos; Deborah Phelps, Executive Director, Education Foundation of Baltimore County Public Schools (and mother of Michael Phelps); Carissa Miller, Executive Director of the Council for Chief State School Officers; and Bradford Fitch, CEO of the Congressional Management Foundation.
Delegates were able to spend time with other state Presidents and Legislative Directors, sharing ideas and learning from each other. They were also updated on National PTA's Federal advocacy priorities, and attended workshops on improving advocacy skills.
The WSPTA delegation then put their new information and skills into action by meeting with several Washington State's Members of Congress or their staff: Senators Patty Murray and Maria Cantwell, Representatives Suzan DelBene and Derek Kilmer, and staff for Representatives Dave Reichert and Pramila Jayapal. Each congressional leader was asked to support bipartisan gun safety and violence prevention legislation and to make investments in safe and supportive schools. The Members of Congress were also asked to support funding for Statewide Family Engagement Centers and Student Support and Academic Enrichment Grants. Read more about the Capitol Hill asks here.  One of the supported bills, The STOP School Violence Act, even passed the House 407-10 while the delegation was still on Capitol Hill!
Pictured are Laura Bay, Past WSPTA President and immediate past National PTA President, Derek Kilmer, Washington State 6th District Representative, and Heather Gillette, Past WSPTA President. WSPTA appreciates Representative Kilmer for his time and consideration.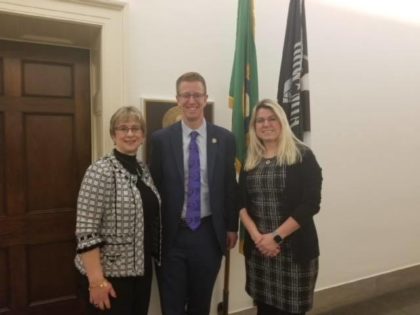 Seattle Council PTSA President Sebrena Burr pauses outside the office of Rep. Pramila Jayapal.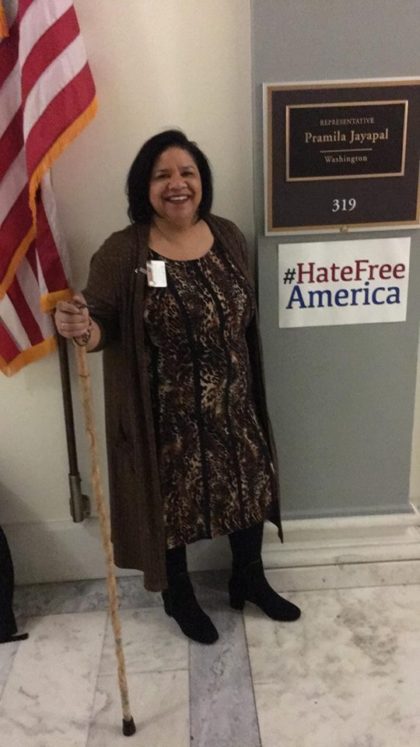 Pictured are Nancy Chamberlain, WSPTA Legislative Director, Senator Patty Murray and Michelle Nims, WSPTA President. Thank you to Senator Murray's office for holding this "Constituent Coffee" to listen to PTA's priority issues.