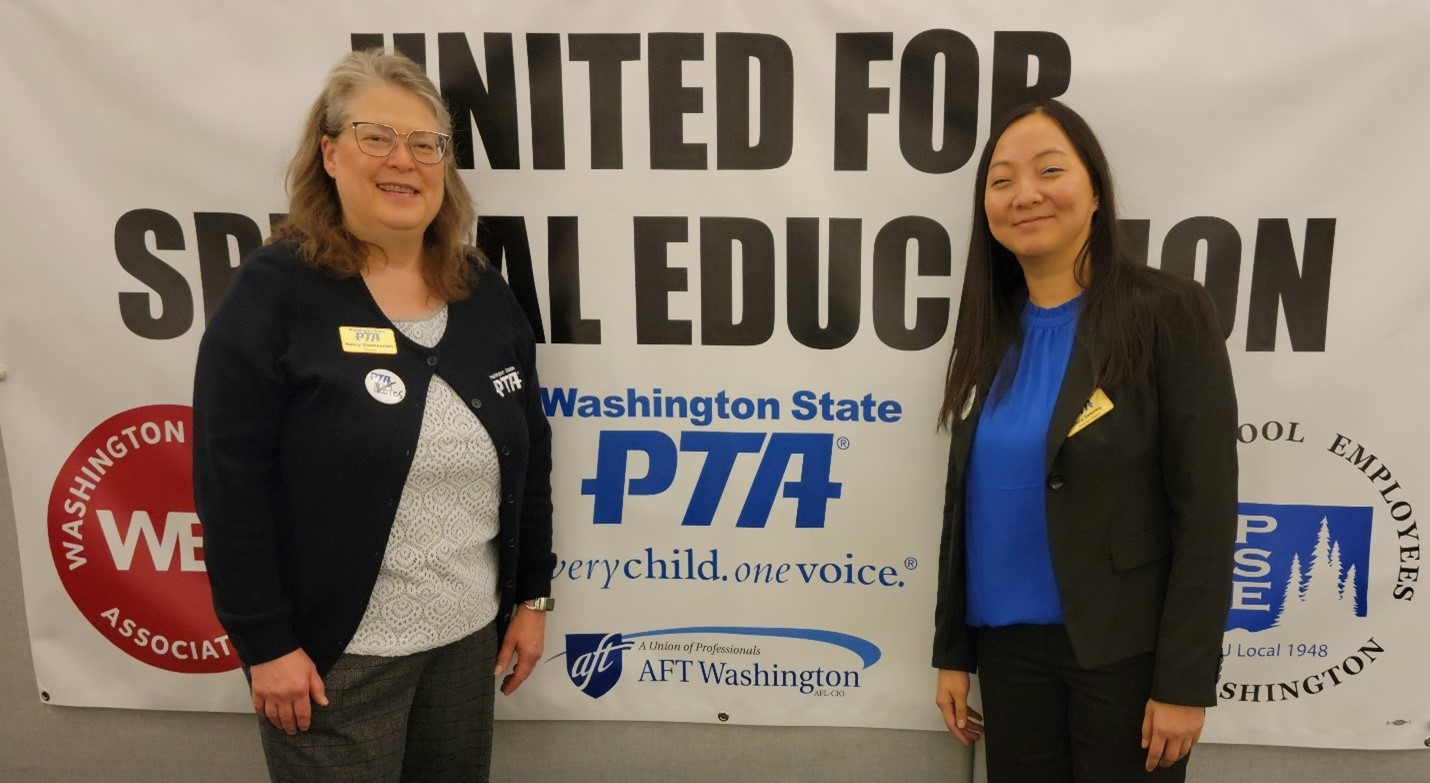 Following on the success of our virtual Focus on Advocacy Week, during which PTA members sent over 3300 messages, advocates came to Olympia on February 20 to meet with their legislators. Members who met with legislators can let WSPTA know how the discussion went by filling out the meeting summary form. 
PTA members also had the opportunity to take a tour of the Capitol and to hear from several guest speakers: Alissa Muller, Director of the Mastery-based Learning Collaborative with the Washington State Board of Education; Jenny Plaja, Executive Director of Government Relations for the Office of Superintendent of Public Instruction; and Maddy Thompson, Governor Inslee's Senior Policy Advisor for Education & College Access. 
WSPTA leadership had 8 meetings with legislators on key committees, to discuss WSPTA legislative priorities and aligned bills. 
WSPTA Advocacy Director Lizzy Sebring also participated in a panel discussion with teachers and paraeducators from the Washington Education Association, the American Federation of Teachers Washington and the Public Schools Employees of Washington. WSPTA President Nancy Chamberlain moderated the discussion, which focused on the need for the state to fully fund special education services. 
President Chamberlain started the discussion by stating, "All of these organizations know one thing: that special education services are required by federal and state law and are considered to be part of basic education. Identified students are already receiving services, but the state is not fully funding those services. There is a $400 million gap between the services districts are providing and what the state is paying for. Where does that money come from? It comes from local levies. That's not equitable. 
The student's zip code should not determine what services they receive. So, we're going to ask the legislature to fully close that gap so that school districts can use their levy money for what it's intended for, which is better school supports, enrichment, mental and physical health, student safety, academic supports and career counseling." 
The panel was covered by King5 and Q13, and the complete discussion, with English captions, can be found at https://bit.ly/UnitedForSpecialEducationPanel.