Dear Washington State PTA member,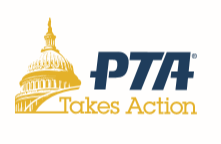 Please contact your legislators and help advocate to support of the Washington State PTA's top 5 issue "Prevent Gun Violence".
High-capacity magazines are used in the nation's deadliest shootings, and common-sense restrictions will keep our communities safer. Click here to view a message from National PTA President Leslie Boggs encouraging members to advocate on this issue.
Click here to participate through The Action Network. You can customize the message, especially if you have a personal message about gun violence and the impact it is having on your family, school, and community. Please share this message with members of your council and encourage them to write their legislators too.
Thank you for advocating for the children of Washington state to have the best opportunity to reach their highest potential.
Visit our website for more information on WSPTA's legislative priorities. If you would like to receive WSPTA Action Alerts directly, please sign up for the Action Network here.