Dear Washington State PTA member,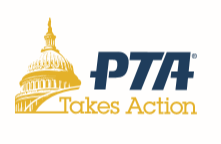 Please contact your legislators and help advocate to increase funding to support the Washington State PTA's top 5 issue "Strategic K-12 Investments to Close Gaps".
Too many districts are facing huge shortfalls which penalize students and especially those most at risk.
Click here to participate through The Action Network. You can customize the message, especially if you know how your district is impacted by the lack of funding or is struggling with funding and can't afford the loss of more resources. Please share this message with members of your council, and encourage them to write their Legislators too.
Visit our website for more information on WSPTA's legislative priorities. If you would like to receive WSPTA Action Alerts directly, please sign up for the Action Network here.
Thank you,
Nancy Chamberlain
Advocacy Director