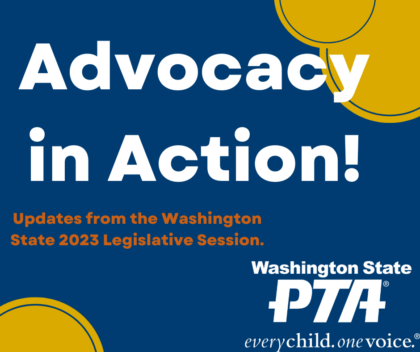 Parent Advocate Devon Kellogg testified on February 6 in the House Appropriations Committee on SHB 1170, improving climate resilience through updates to the state's integrated climate response strategy. She encouraged legislators to include K-12 schools in the coordination and engagement of the updated strategy. Devon's testimony can be found here.
Overcoming some internet connectivity issues, past-President Michelle Nims offered WSPTA's support for HB 1504, but asked for a few amendments to recognize the challenge of mandating 45 minutes every full day of school and to include dressing and undressing activities associated with recess. Michelle also asked House Education Committee members to ensure additional minutes don't cut into lunch time and that the Legislature fund any additional recess staffing requirements. Listen to Michelle's testimony here.
In the House Environment & Energy Committee, parent advocate Devon Kellogg asked committee members to support HB 1368, requiring zero emission buses by 2035. The bill also creates a grant program to support implementation. Devon's testimony can be found here.