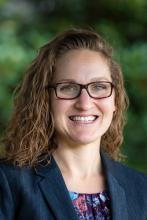 Guest post provided by Amy Campbell, 2020 Washington state Teacher of the Year
Hello fellow PTA members,
My name is Amy Campbell. I am a Special Education teacher in the Camas School District, and the 2020 Washington state Teacher of the Year. I was honored to attend the Washington State PTA conference in May to promote inclusion within the organization. I am heartened to connect again during this time when I am, like so many of us, endeavoring to build strong and meaningful connections within our communities and improve outcomes for all students, regardless of ability, ethnicity, or race. As we enter a new year with so much uncertainty, I encourage you to continue your vision for a stronger, broader, community. The work you do as individuals in your homes and as larger organizations within the community makes lasting differences for our students.
Building community starts as we connect with our own families. There will be academic learning during the pandemic, as well as learning about ourselves and the world. So much is happening right now and our children are aware, and also, sometimes scared and confused. Take time to connect each day on how you are feeling and they are feeling. Emotional stress is very real and especially hard during a pandemic; conversations about emotions will help children name and understand their feelings, and develop strategies for coping in healthy ways. Emotions & Self-Awareness Development for Kids is a resource that might get you started, but remember, if you have any concerns, reach out to the school counselor or your healthcare provider.
Now is also a great time to start having conversations around race. We have an opportunity to grow in our understanding of racism in America, which is the first step toward real equity and inclusion. Kids start developing an understanding of self and others very early, so the simple conversations, stories, and movies you share can make an impact.
To support connections within your school, reach out to building administration throughout the year for ways you can offer support. At the start of each year our PTA, with support of local businesses, makes backpacks of supplies for students in need. This new reality may mean that there are other needs to be met. Is there a food pantry that needs stocking? Are there books or materials that need to be delivered? Are there packets that need to be assembled? Fluid communication will ensure that we work as a team to serve each other, and include all community members.
Despite sheltering in place, we have new ways to connect and support our communities. With more learning happening at home on computers, families have the opportunity to reach out to support each other with tips, advice, and inspiration for using learning platforms or lessons.  As you work in conjunction with administration and staff at the school, look for ways to keep kids and families connected. While technology may be limited in some capacities, as we consider access to devices and the internet, it can also provide an opportunity to include individuals with a wide variety of needs.  I encourage you to take advantage of this new reality in these ways:
Online meetings offer a new way of including people, with the flexibility to participate from home even if childcare or scheduling issues exist.
Social media platforms create a way to connect parents to activities and each other.
Video messaging is powerful and can be translated into other languages to reach a wider audience. Consider sharing short videos that explain what you do and how to get involved.
Consider hosting some traditional events, such as BoxTop collections, live-streamed dance parties, or theme weeks where ALL students can all participate virtually.
As a teacher, I worry about the emotional toll the pandemic is taking on each of us.  I want to build lessons to help my students understand their emotions. I want to show that understanding our own biases leads to communities that understand equity. I want to make sure that kids get what they need to succeed and that the communities we have built over years together in buildings are fostered in new remote settings. Finally, I want to leverage the power of technology to increase our capacity for inclusion. I hope you will join me on this journey. We are all in this together.