On behalf of your Washington State PTA board of directors, thank you to everyone who attended the 106th Annual WSPTA Convention this past weekend. We learned a lot, laughed a lot, and danced a lot, so thank you for joining us!
If you were not able to attend this year's convention, here is a recap of the business that was conducted:
Your 2019-21 WSPTA Board of Directors was elected and installed. Congratulations and thank you for serving!
Janice Kutzera, President
Julie Haase, Vice President
Tania Skinner, Secretary
Nancy Chamberlain, Finance Officer
Kimberli Swenson, Family and Community Engagement Director
Shelby Reynolds, Leadership Director
Kim Kuhne, Membership Director
Sharon Pfeiffer, Program Director
Sherry Rudolph, Area B Vice President
Kandy Schendel, Area C Vice President
Connie Andrews, Area D Vice President
Angela Steck, Area E Vice President
Seven amendments to the WSPTA Uniform Bylaws were passed. We will let you know as soon as the updated document is available on the website!
Individuals were honored with WSPTA Awards:
WSPTA Outstanding Advocate – Heidi Bennett
WSPTA Outstanding Educator – Dr. Michelle Reid, Northshore Superintendent
WSPTA Outstanding Service – Leanne Hawkins
WSPTA Outstanding Student Advocate – Mitchell Klein
WSPTA Honorary Life Membership – Rollie Cox
Awards of Excellence results were announced:
Membership Award results were announced:
100% Membership Awards were presented to:

Christine McAuliffe Elementary PTSA 2.13.36
Maple Hills PTA 2.6.16
Maplewood Elementary PTA 5.7.25
Peter Kirk Elementary PTSA 2.8.45
Somerset PTSA 2.3.80
Outstanding PTA of the Year results were announced:
Cedar Wood PTA 7.3.3 – Winner in the elementary division
HM Jackson High PTSA 7.3.95 – Winner in the secondary division
You won't want to miss it, so please mark your calendars for next year's convention May 15-17, 2020 in Lynnwood, WA.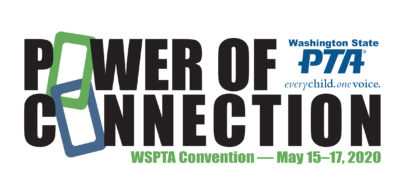 Keep up the great work for kids and thank you for all you do!
Michelle Nims
WSPTA President, 2017-19