Prepared by Marie Sullivan, legconsultant@wastatepta.org 
As was reported last week, the Washington State Legislature adjourned Sunday, April 23rd, closing the 105-day session with some significant gains, including increased funding for special education, investments from the Climate Commitment Act, and bills designed to prevent and mitigate gun violence. Governor Jay Inslee has until May 16th to sign bills, including the two-year spending plans for operations, construction, and transportation. And, for anyone keeping track, legislators introduced nearly 1,700 bills this session!
Please see the 2023 Legislative Scorecard for a review of bills passed, bills not passed, and funding provided either directly to school districts or school districts are eligible for the funds. Since the Governor has yet to complete bill signings, including signing the budget, this document has a "draft" label; it will be updated once the pen is finished. In addition, please see the New School Year Requirements document.
As a reminder, here's a quick summary of ESSB 5187, related to the bigger K-12 education funding items in the 2023-25 final operating budget (biennial amounts unless otherwise noted):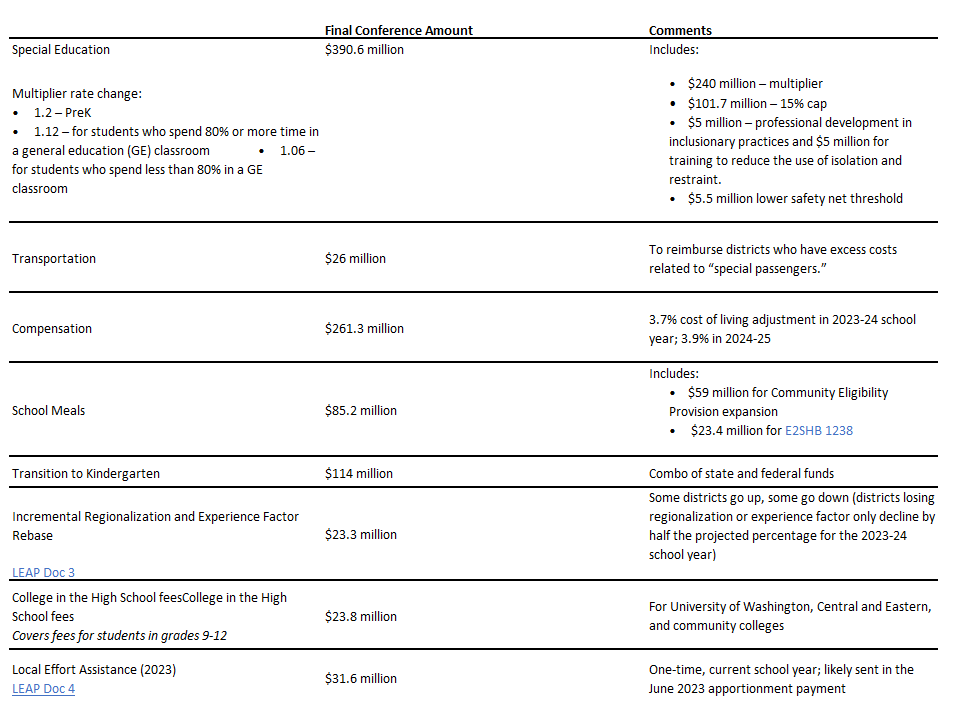 The Legislature also adopted a two-year capital budget before adjourning. Here are the highlights of ESSB 5200 related to school districts and/or school construction: