Prepared by Marie Sullivan, legconsultant@wastatepta.org  
The Legislature is now on the downward slope towards the end of session in April, with the second deadline of Friday, February 24 ending the journey for many policy bills with fiscal impacts to the state. Bills with fiscal impacts to local governments or school districts usually don't get similar scrutiny. Expect bills that cost the state money and emerge from a fiscal committee to have some level of funding proposed in the Senate or House two-year budgets, respectively.
Legislative action now turns to the floor, during which Senators and Representatives will spend long hours with their political colleagues in "caucus" sessions, getting briefed on bills and amendments, before returning to the floor for political debate and bill passage. Expect some long nights, with some bills passing well beyond the time most people go to bed. Legislators will be keeping an eye on the clock and the calendar: March 8 at 5 PM is the next big cutoff; this is the date and time by which bills must have passed the chamber in which they started to stay under consideration.
The following are bills that failed to make fiscal cutoff. Any bill with a companion in the opposite chamber that has advanced to the Rules Committee or the floor, won't be listed here to avoid confusion. All bills can be found by using the Bill Info search button here. And remember, just because the bill is dead, doesn't mean we won't see it in the budget as a proviso or next session.
HB 1064 would have created a school safety capital grant program.
SHB 1074/SSB 5125 would have created the Future Fund program to create a savings account, starting with babies who are enrolled in the Apple Health program.
SHB 1228 would have created a dual credit and tribal language education program. I would not be surprised if this ends up as a budget proviso. Lillian Ortiz-Self, the bill's sponsor, estimated the potential grant program at $25 million.
SHB 1242 would have created a behavioral health workgroup to study the root causes of rising behavioral health issues in Washington communities.
SHB 1368 would have required school districts to purchase zero emission school buses beginning September 1, 2033; and would have required 70 percent of school bus purchases to be zero emission beginning September 1, 2030.
SHB 1386 would have created a youth development grant within the Department of Children, Youth and Families for after school and extended learning programs. This may come up as a budget proviso.
SHB 1399 would have created a Native American Scholarship program.
HB 1411 would have created a cross-sector professional development program.
HB 1418/SB 5442 would have provided enrichment funding to charter schools.
HB 1710/SB 5248 would have used COVID-19 relief funding on high-quality tutoring and rigorous extended learning programs.
HB 1741 would have increased prototypical school formulas to support student health, well-being, and education outcomes, including funding for a family engagement coordinator at not just elementary school, but middle and high school. Also would have adjusted principal, assistant principal and building-level leader ratios; added continuous improvement coaches; paid $25 per student for classroom supplies; funded 12 substitute days per classroom teacher unit at a daily rate of $189.82; and increased salary allocations for professional development.
HB 1747 would have required OSPI to contract for a seismic study of school buildings not previously surveyed in prior reports.
SB 5020 would have set age 6 instead of age 8 as the mandatory age by which to begin elementary education.
SB 5232 would have prohibited a firearms dealer from transferring a firearm to a purchaser until the results of a background check indicated the person was eligible to possess firearms, and 10 days had elapsed since the dealer requested the background check.
SB 5408 would have expanded the 9th grade success grant program. May become a budget proviso.
SSB 5441 would have promoted the adoption of school district curricula that is diverse, equitable, and inclusive.
SSB 5703 would have increased eligibility for the maximum Washington College Grant (WCG) award up to 70% of median family income and would have entitled WCG students who are receiving the maximum WCG award to a bridge grant, which is an additional annual stipend for expenses beyond tuition and fees. May become a budget proviso.
SB 5710 would have provided access to behavioral health services to youth in rural and underserved areas.
Special Education and Transportation
Unfortunately funding for special education under 2SSB 5311 got squeezed last week. While the bill retains a lift of the cap to 15%, the phased multiplier has been replaced by a flat rate of 1.12 for students who are in general education classes 80% or more of their time. This is up from 1.0075 in the current school year. For students who spend less than 80% of their time in general education classes, that rate changes from 0.0095 to 1.06. This begins with the 2023-24 school year.
For the multiplier, the Senate bill is stronger than the House. For comparison purposes, SHB 1436 would increase the cap from 13.5% by .5% in the 2023-24, 2024-25, and 2025-26 school years, and remove the cap in the 2027-28 school year. The multiplier would be increased along a phased-in schedule, starting with the 2023-24 school year.
Here's a comparison of the two bills: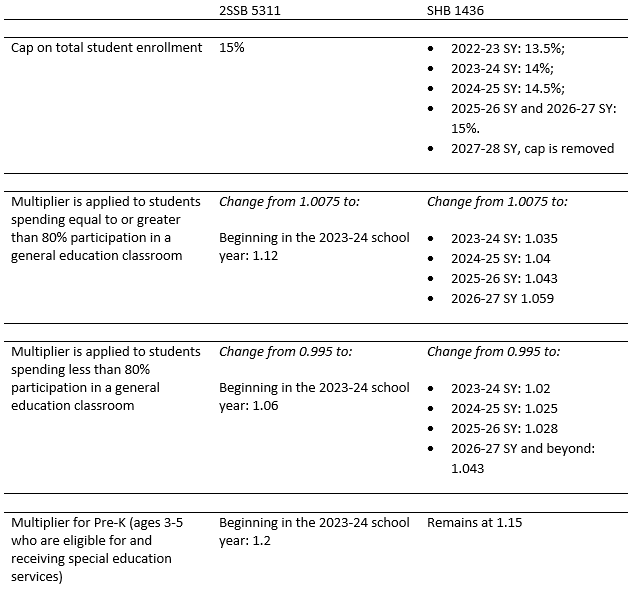 2SSB 5174, the Senate transportation bill, was effectively gutted in the Senate Ways & Means Committee last week. As scaled back, the bill is more like SHB 1248, and would create a "transportation safety net award" grant program for districts that can "convincingly demonstrate" a need for excess special passenger costs related to transportation for students with disabilities, and homeless and foster students, with the amount appropriated in the operating budget.
While the House bill would require school district contractors of student transportation services to provide their employees with health benefits and pension contributions equivalent to those of school district classified employees, the Senate has removed that requirement. The Senate bill also would direct OSPI to do an analysis of school district transportation costs and allocations and report to the Legislature by June 1, 2026, based on school district 2024-25 transportation data.
Other bills that advanced last week
School Meals
Beginning in the 2023-24 school year, 2SHB 1238 would require school districts to provide breakfast, lunch or both to students who ask for the meal at no charge in grades K-4 and when 30% of more of the enrolled students meet federal eligibility requirements for free or reduced-price lunches.
In addition, the obligation to provide breakfast and lunch to all students begins in the 2023-24 school year for schools in which 40% or more of the enrolled students meet federal eligibility requirements for free or reduced-price lunches.
For the 2024-25 school year, schools in which the percentage of enrolled students that meet federal eligibility requirements for free or reduced-price lunches is at least 30% and less than 40%. This doesn't apply to schools participating in the Community Eligibility Provision that have not completed the duration of the provision's four-year cycle.
Subject to funds appropriated for this purpose, OSPI would reimburse school districts on a per meal reimbursement for meals not already reimbursed at the US Department of Agriculture's free rate. The additional state reimbursement must be the difference between the US Department of Agriculture's free rate and their paid rate.
The bill would also require school districts to continue collecting free and reduced-price meal eligibility applications where applicable and run direct certification at least monthly in accordance with RCW 28A.235.280, to "maximize federal funding." In voting "without recommendation," Rep. Joe Schmick, R-Pullman, stated his concern over challenges to school districts in his legislative district about continuing to collect these forms when they are no longer needed to demonstrate income eligibility. Bill sponsor Marcus Riccelli, D-Spokane, said he would continue to work on the issue.
It would appear that this school meal requirement is no longer required as part of the program of basic education, and OSPI would be allowed to continue to grant exceptions to school districts that are not participating in the federal school meal program under adopted rules, as long as they are not in conflict with federal or state law.
The 2nd substitute was not available at the time of this report, so this information is based on looking at the adopted amendment to the striking amendment.
Isolation and restraint
Another bill that received a significant rewrite in the House Appropriations Committee was 2SHB 1479, regarding restraint or isolation of students in public schools and educational programs.
The bill includes definitions of imminent and likelihood of harm; restraint, chemical restraint, mechanical restraint; room clears; isolation, isolation rooms; and more. The definitions allow for "time away," which is a student-selected opportunity for self-calming, where the student is separated from others for a limited period, in a setting that is staff-monitored and from which the student may leave at any time.
Quite a bit of the bill focuses on professional development, training, and technical assistance. Under the bill's provisions, one of the three state-funded professional development days could be used for the purposes under the bill, but other funding for PD is expected. Professional development is prioritized in the bill first to staff providing educational services to students with disabilities in pre-kindergarten through grade 5. Next, professional development for staff providing educational services to students with disabilities in grades 6-12, and finally to all other staff.
In addition, by January 30, 2024, school districts would be required to prepare and submit to OSPI a staff professional development plan and timeline to reduce incidents of isolation and restraint. Then, by August 31, 2024, and every year thereafter, the district would need to provide an update on the implementation of its staff professional development plan to OSPI.
Among other provisions, OSPI would be allowed to grant a waiver to school districts that allows for isolation of students in grades 6-12 until August 1, 2025.
Several amendments offered by House Republicans in the committee failed, and the bill largely passed along party lines, with only two Republicans (Couture, Sandlin) voting for the bill. Rep. Mike Steele, R-Chelan, former Ranking Republican on House Education, shared his frustration with the bill's continued advancement, saying that he remained worried about the lack of tools available to staff and the possibility for harm and injury to staff and other students. Steele also expressed hope that some adjustments could be made on the House floor.
Running Start/Dual Credit
Two bills related to improving access to college-level credit have passed their respective fiscal committees:
2SHB 1316 would allow students participating in Running Start programs to be funded up to a combined maximum enrollment of 1.6 FTE for school districts and institutions of higher education.
2SSB 5048 is focused solely on improving access to College in the High School (CHS).
The House bill would also allow high school graduates who have 15 or fewer college credits to earn before meeting associate degree requirements to continue participating in the Running Start program and earn up to 15 college credits during the summer academic term following their high school graduation. The bill also expressly prohibits Running Start in the high school.
Senator Mark Mullet, D-Issaquah, is once again trying to make College in the High School more accessible and affordable to students. Beginning September 1, 2023, institutions of higher education must provide enrollment and registration in College in the High School courses at no cost for students in grades 9-12.
Under 2SSB 5048, the operating budget must include funding, at a rate of:
$6,000 per CHS course administered at a state university;
$5,500 per CHS course administered by a regional university or the state college; or
$3,500 per CHS course administered by a community or technical college.
State appropriations would be adjusted annually for inflation as measured by the CPI, and state appropriations must be based on the total number of College in the High School courses administered by an institution of higher education for the academic year immediately prior to the current fiscal year. Data should be submitted annually by October 15th to OFM and legislative fiscal staff.
Transition to Kindergarten (TTK)
The House Appropriations Committee passed 2SHB 1550 on Friday, February 24th. The Senn striking amendment made several changes, the biggest of which is another change to the funding formula for the new TTK program.
As described in the bill, the TTK funding formula would be based on the amount per child enrolled in a school day class of ECEAP, adjusted for the school district's regionalization factor, rather than based on the estimated statewide allocation per kindergarten student. Rep. Steve Bergquist, D-Renton, had a little interplay with House Appropriations staff regarding Governor Inslee's proposed ECEAP slot increase of 40%, which would be significantly higher than a basic education allocation. However, it's unlikely the House (or Senate) will support that large of an increase to ECEAP allocations.
According to non-partisan House Appropriations staff, a possible TTK rate based on a 15% bump to the ECEAP rate would result in the following:
No regionalization: $13,303.39
6% regionalization: $14,101.59
12% regionalization: $14,899.80
18% regionalization: $15,698.00
Other changes to the bill included some policy adjustments, including:
Modifying that TTK classroom teachers who hold an elementary education endorsement complete additional education related to the state early childhood education core competencies within five years of assignment to the program, adding 24 college credits or 60 clock hours as alternatives to an early learning endorsement or early learning special education endorsement.
Clarifying that a district offering a TK program in the 2023-24 school year that is converting to a TTK program and that meets the TTK program requirements by September 1, 2024 or earlier is automatically authorized and does not need a one-year planning year.
Requiring school districts to report their screening processes to OSPI by October 1, 2023, and OSPI to develop a process for school districts to apply to operate or expand a TTK program by December 31, 2023.
Modifying the definition of eligible child by removing the requirement the child "has not participated in a formal early learning program" to "does not have access to or has been referred by a licensed early learning program provider" as one component.
The bill still would limit the number and potential placement of TTK slots around the state.
Next steps? The bill has been sent to the House Rules Committee; possible further amendments could be offered on the House floor before the bill is passed to the Senate.
Other bills with changes last week
Senate
SSB 5243 would make changes to High School and Beyond Plans (HSBP), starting with the 2023-24 school year. Elements are added to the HSBP, including alignment with a school district's language access plan and financial assistance information. The bill continues to probe at adoption of a single online platform for HSBP for all school districts, with OSPI directed to develop, by January 1, 2024, a preliminary list of existing vendors who can provide or build a platform that meets the criteria outlined in the bill. A vendor must be selected to develop the universal platform by June 1, 2024, and by October 1st, OSPI must develop an implementation plan, including an estimated timelines and updated costs estimates, including technical assistance and statewide professional development, for completing full statewide implementation of the universal platform. School districts would be given two years from the time the universal platform is developed to provide access to students to the new HSBP tool.
SSB 5670 would allow 10th graders to participate in Running Start online classes. The bill was modified in Senate Ways & Means only slightly and was passed to the Senate Rules Committee.
House
The Week Ahead – Remote Testimony is available for ALL public hearings
Next week legislators are expected to be on the Senate and House floor for action, including over the weekend. House Education is one of a few policy committees planning to hold public hearings.
Schedule is subject to change:
Health Care & Wellness (House) – HHR A and Virtual JLOB – 2/28 @ 8:00am
SB 5036 – Public Hearing – Concerning telemedicine. (Remote Testimony Available). (Support)
Education (House) – HHR A and Virtual JLOB – 3/1 @ 8:00am