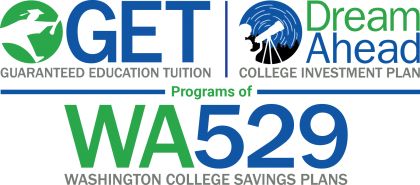 Guest post provided by WSPTA sponsor, WA529
Many descriptive words come to mind when we think about the past year and a half. One word that has possibly eluded us though, is "hopeful". We haven't had much of a hopeful outlook lately, have we? The ones who could really use a hopeful outlook are our kids. Between school closures, having to remain "socially distant" from their friends, and life as they know it flipped upside down, it has been a year and half for them. We have encouraged them to keep going, continue to work hard, dream big and that circumstances will eventually change. A little hope and maybe some luck dealing with this pandemic sure would be nice. But when it comes to one day funding their higher education costs, you won't want to rely just on hope and luck.
Scholarships, grants, and gifts can all help pay for a child's future education costs and chances are your kids will receive one or more of these alternative funding sources. But adding some savings to the mix will help limit the burden of debt for your child when they accomplish their dreams. Did you know that putting away a mere $10 a week from birth until they graduate high school can amount to more than $15,000 in savings? And that's before interest.
One of the best ways to prepare and plan ahead is with Washington's 529 College Savings Plans (WA529). WA529 includes the GET Program and DreamAhead Plan and are tax-advantaged accounts that can be used for qualified education expenses, at universities, colleges, technical and vocational schools, and apprenticeship programs in the U.S and even some schools abroad.
Don't leave a child's dreams to chance – help them pursue those dreams and set them up to succeed. WA529 is helping families prepare through saving for future education expenses. Visit wastate529.wa.gov/resources-for-schools or contact the WA529 Community Relations Manager at WA529Outreach@wsac.wa.gov to request materials for your school or community. We are also available to speak at a virtual or in-person parent meeting or have a representative at your school event to help families learn more.