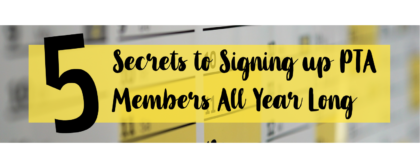 Sure, you may hear that "membership is year-round," but how does that translate to actually getting new members for your PTA? To find out, we tracked down PTAs across the state that are successfully recruiting members well into the spring of each year, and we asked them to spill the beans! Here are the five secrets we heard again and again.
Find a visual way to measure your PTA's progress toward its membership goal. Just like the tried-and-true thermometer often used to show progress in relation to a goal, find a way to visually measure your PTA's current membership total against its goal. A bulletin board or poster should not only recognize members who have joined, but also show potential members how joining would make a measurable impact on your PTA. For example, let's look at the popular imagery of a tree with a leaf for each member. To visually demonstrate your PTA's need for more members, you'll want to take that imagery a step further, perhaps by adding the outline of a leaf for each membership you still need in order to achieve your PTA's goal.
Offer a membership INCENTIVE program. This isn't the same as a membership "contest" with a specific deadline and one prize up for grabs. An incentive program offers the "prize" to all who achieve the goal, and the program can last all year long! Some PTAs offer an incentive (such as a pizza party or "picnic lunch") to every classroom that achieves a pre-determined membership goal. Other PTAs work with their administration to offer a school-wide "carrot" for reaching the PTA's overall membership goal. This could be anything from an extra recess to something silly the principal agrees to do.

 

Use the power of membership perks. Advertise the cost savings available to PTA members on your website, Facebook page, newsletter, and more! There are dozens of discounts available to members through Washington State PTA and National PTA. (Just be sure not to list discount codes or other details publicly.) Use examples to show how a single discount can easily recoup the cost of a PTA membership. And consider taking it a step further: reach out to local businesses to secure discounts for your PTA members, or offer a coupon or discount for one of your events.

 

Don't do it alone. By asking for a little help from each of your board members, from teachers, and from administrators, you'll avoid the temptation to throw in the towel. Ask teachers to include some supplied language in their weekly newsletter. Administrators can take a moment to plug PTA membership at the next school assembly. Board members can be challenged to recruit two new members before the next meeting. Many hands make for light work.

 

Figure out what's holding people back from joining and fix it! Consider the excuses heard most often when asking someone to join your PTA. Are they worried about volunteering? You can combat that through some high-profile communications and education about what membership really means. Is it a financial burden that has them turning you down? Then work with your board to set up a membership scholarship program. Determine the excuses you're most likely to encounter and work to eliminate them.