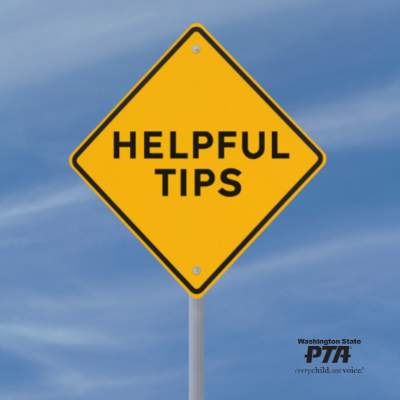 Welcome to the new PTA year! PTA's fiscal year runs July 1 – June 30. Each month we will post monthly task lists for you to use that will help develop your calendar for the year. The dates listed reflect best practices.
Ongoing Tasks
Review the Standards of Affiliation Checklist. Offer support to local PTAs who may have struggled last year with any of the SOA requirements.
Work with your region director to support any local PTAs who finished last year with fewer than 25 members or any local PTAs without an approved membership waiver to ensure they remain "in good standing."
Provide support to local PTAs with their memberplanet database.
Encourage local PTAs to keep updating the membership database with officer and board member information. This will ensure that their PTA remains in compliance and that their PTA leaders receive timely and relevant leader emails and newsletters.
Encourage incoming local PTA leaders to plan a board meeting/retreat this month and support local leaders with transition needs.
Remind local PTA leaders to complete a year-end financial review.
Remind local PTA leaders about the Annual Report for Nonprofit Corporations.
Remind local PTA leaders about updating their new signers with their bank. (A Corporation Amendment may be required).
August Monthly Tasks
Continue assisting with items from the "ongoing tasks" list.
Continue to report new council officers to WSPTA through the memberplanet database.
Review the memberplanet Database Relaunch Checklist.
Review the newly amended WSPTA Uniform Bylaws. Located on the Governance page of the WSPTA website.
Review the WSPTA Policy Manual section 3 Local PTAs and Councils.
Share online WSPTA leader resources with all board members.
Hold your first board meeting/retreat. As a board, set goals, prepare for your first membership meeting, review your budget and standing rules, and recommend these documents for approval at your first membership meeting. Financial Review Committee presents report to Board.
Plan to attend and encourage your local PTAs to the first Washington State PTA Day at the Park with our Seattle Mariners on August 27.
Complete incoming board transition process.

Update job descriptions for board positions.
Update contact information on websites, social media, and with the district.
Change bank signers.
Update all passwords for online accounts.
Update your officers under the committee tab and admin tab in memberplanet.
Update the Group Billing tab in memberplanet.

Share your meeting schedule with your local PTA leaders.
Meet with district administration to discuss policies, calendars, and back-to-school volunteer needs.
Ask the superintendent if you may speak at an August principals' meeting to introduce the council board and share 'the role of council.'
Register and attend the remote WSPTA Autumn Leadership Launch on August 25-26 and encourage local PTA leaders to register. Visit the A.L.L. webpage for details and to register.
Was your council PTA Incorporated in August? If so, then your Corporate Annual Report is due on August 31. The annual corporate renewal is due regardless of your PTA's annual income and is separate from the Charitable Organization Registration/ Renewal. Washington Secretary of State's office recommends early filing to avoid delinquent status. To check your PTAs status, click on the above link, click on the Corporations & Charities and hit the search tool, if you do not already have an account set up you will need to set up an account.