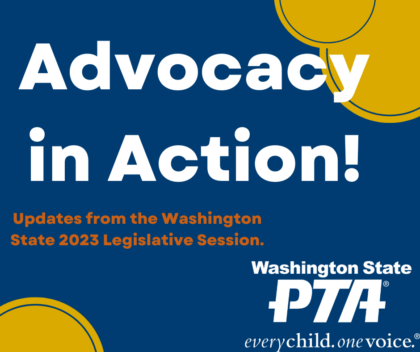 68th Legislature Returns to Olympia January 9th
Prepared by Marie Sullivan, legconsultant@wastatepta.org
After two years of remote legislative sessions, all 147 legislators will return to Olympia January 9th to begin a 105-day session where the main bit of business is passing two-year spending plans for operations, construction, and transportation. All the rest is just gravy.
Legislators aren't wasting any time beginning to propose policy changes, however. Even newly elected members are allowed to "pre-file" a bill that will be introduced on Day 1 and is already assigned a bill number. As of last Friday, beyond operational bills, 193 bills had been pre-filed in the House and 214 had been pre-filed in the Senate. Following the swearing-in ceremonies in both chambers, election of a House Speaker, and other pomp and circumstance, the bills will be read into the record and assigned to a committee.
Usually the first week of odd-numbered years in committees is spent with work sessions to familiarize new members about committee protocols, offer insight into state agencies or issues that will be in front of the committee that session, and take public testimony on Governor Jay Inslee's 2023-25 proposed budgets. This year, several committees will kick off the first week with public hearings on some of the pre-filed bills.
Committees in the House and the Senate will allow for in-person and remote testimony, along with the opportunity to electronically state a position on a bill and provide written testimony into the record.
What to expect in 2023
In what is described as the "long session," legislators will have until April 23 to take care of business. Along the way, self-imposed deadlines for bill consideration will keep the process moving. With a long session also comes a long lead time for consideration of policy bills – the first cutoff for bills to move out of policy committees is Friday, February 17th. This session, legislators will allow a full week of consideration in fiscal committees before dropping the hammer on many a good idea. Action then will turn to the floor, with the chamber cutoff scheduled for March 8th.
While legislators are in person, changes have been proposed to manage public visits with legislators. For the House O'Brien Building and the Senate Cherberg Building, visitors and lobbyists meeting with legislators will need to check into security desks on various floors and make sure they have a scheduled appointment before being escorted back to the legislators' offices. It is unclear how this will work in the Legislative Building on the 1st floor, where some House Democratic and Republican members have their offices. Visits to legislators on the 4th floor of the Legislative Building in both the House and Senate will continue the protocol of checking in with a security person before being admitted. Guidance hasn't been issued yet about access to Senate Republicans who are in a temporary modular building while a new office space is being built. Getting in and out of meetings is expected to take a little longer, so it will be important to build in adequate travel and check-in time.
As mentioned above, committees will try a version of allowing in-person and remote testimony. It isn't clear yet how individual chairs will maneuver or balance this and, as always, testifying isn't guaranteed due to committee time constraints. With the exception of the budget committees taking testimony on the Governor's proposed budgets and on legislator proposed budgets (out in March), most committees are limited to two hours.
You can participate in committee meetings in four different ways, but all use the same House or Senate committee sign-in portal. Options include:
Sign up to testify in person;
Sign up to testify remotely;
State your position for the Record of Pro, Con, or Other;
Submit written testimony which should be shared with committee members and become part of the official record on the bill.
You can find the full Pre-session Report for the 2023 Legislative Session here.
Additional ways to stay connected: