Snowmageddon strikes but Advocacy Week continues
Prepared by Marie Sullivan, WSPTA Legislative Consultant, legconsultant@wastatepta.org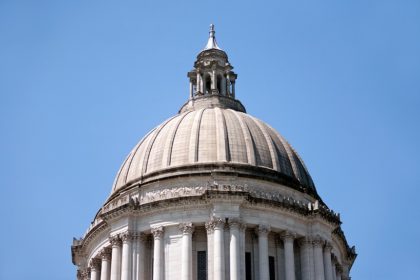 Even before forecasts of large snowstorms across the state were announced for February 8th through the weekend and Governor Jay Inslee declared an emergency, Olympia started the week with a dusting of snow. Schools were closed or delayed, people were encouraged not to drive, and stores started seeing a run on food staples. But at the Capitol? It was business as usual during week four.
In fact, the pace in some ways increased this week, as committees began to prepare for the first cutoff deadline of February 22 to move bills out of policy committees by setting aside time at regular meetings to vote on legislation.
All lightness aside, unfortunately the anticipated weekend snowfall caused many events to be cancelled, including the February 11 WSPTA Focus Day/Day on the Hill. WSPTA will continue to hold its Advocacy Week, which is a daily focus on Top 5 priorities and an opportunity to reach out every day on a different topic with your local legislators and leadership – sign up for these action alerts to participate. Read more here.
The unprecedented snow storms have led to the Legislature changing its schedule for at least Monday, February 11 – check the daily committee schedule for changes to week 5 committee hearings.
Keep up with the bills and committee hearings related to WSPTA member-generated Legislative Priorities and long-term positions by utilizing the WSPTA Bill Status Report.