100% Membership/Staff Applications Due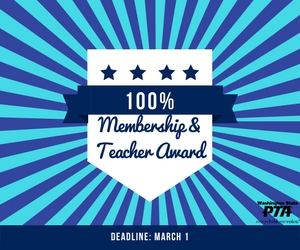 100% Membership
To be awarded the 100% Membership Award, local PTAs must have one paid membership entered in the membership database for every child enrolled in the school associated with that local PTA. PTAs must complete an application form by March 1 to be eligible for this award. Recipients of the 100% Membership Award will be honored at the WSPTA convention.
100% Staff
The 100% Staff Membership Award is presented to local PTAs who enroll at least as many school staff members as there are full-time certified employees at the school. This award recognizes the value of teachers as stakeholders, as well as all dedicated staff members at the school, in advocating for all children through PTA membership.
PTAs must complete the applicable application form by March 1. Learn more here about these membership awards including the application forms for download.
Related Events
Washington State PTA strives to assure that all meetings and other activities of the Association are available for participation by all of its members, consistent with the Americans with Disabilities Act ("ADA") and the Washington State Law Against Discrimination (RCW 49.60).
Individuals requiring special accommodations to attend or participate in WSPTA meetings are requested to contact the office in advance: (253) 214-7410 or email.