Local PTA and Council Awards of Excellence Due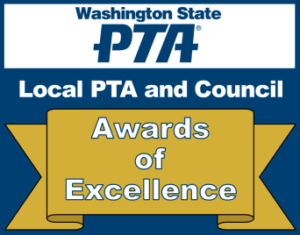 The Local PTA and Council Awards of Excellence Awards Program recognizes local PTAs, community PTAs, and councils whose level of effort in specific areas help them make a difference in their community. To participate in the Local PTA and Council Awards of Excellence Program, the PTA or council must meet the following standards:
The Standards of Affiliation (SOA) contract was completed, signed, and submitted by the October 31st deadline. If the PTA or council was chosen for periodic review, all contract requirements must be in order.
The PTA must be up to date on membership dues payments to WSPTA.
The PTA must have at least 25 paid members (or an approved waiver) by February 1st.
The PTA or council must have a president identified in the WSPTA membership database.
Local PTAs, community PTAs, or councils may apply for the following awards:
Advocacy Award of Excellence
Family and Community Engagement Award of Excellence
Outstanding Communication Strategy
Outstanding Newsletter & E-Blast
Outstanding PTA of the Year
Outstanding Website
PTAs Taking Significant Action
Standards of Excellence
To learn more and for applications (posted January), visit the Local PTA and Council Awards of Excellence page.
Related Events
Washington State PTA strives to assure that all meetings and other activities of the Association are available for participation by all of its members, consistent with the Americans with Disabilities Act ("ADA") and the Washington State Law Against Discrimination (RCW 49.60).
Individuals requiring special accommodations to attend or participate in WSPTA meetings are requested to contact the office in advance: (253) 214-7410 or email.