Reflections Due Date – Jan 18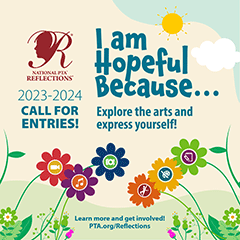 All entries to the state Reflections contest must be submitted via the online application (located here: https://wspta.smapply.io/)by this date. These may only be submitted by council Reflections chairs and local Reflections chairs for PTAs without an active council.
Related Events
Washington State PTA strives to assure that all meetings and other activities of the Association are available for participation by all of its members, consistent with the Americans with Disabilities Act ("ADA") and the Washington State Law Against Discrimination (RCW 49.60).
Individuals requiring special accommodations to attend or participate in WSPTA meetings are requested to contact the office in advance: (253) 214-7410 or email.