WSPTA//Game Development Competition
---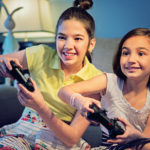 The WSPTA//Game Development Competition is a STEM-based program, introduced in 2016, to encourage and support student success. Students in grades 9-12 (or 7 and 8 grade students as part of a larger group of 9th graders or older) attending a school with a PTA in good standing may participate and share their knowledge of computer science based on an assigned theme. (See the FAQ for details on how 7-8 grade students may participate.) The purpose is to provide an opportunity for students, either individually or in teams of up to six members, to use their creative talents and express themselves by developing a computer game. Students' submissions are judged in the following areas: game of the year, arts and animation, game design, programming (code), and audio design.
The theme for the 2019-2020 competition is Animals.
Students must participate through a local PTA/PTSA in good standing. Parent groups not affiliated with WSPTA are not eligible to sponsor this program. It is the responsibility of the local PTA/PTSA to determine each student's eligibility in the program. A student/team may develop an entry in or outside of school.
Students in grades 9-12 may participate individually or in teams of up to six members. Teams are encouraged. A PTA may have an unlimited number of teams.
Students in grades 7 and 8 may be affiliated with a team that has a team member in 9th grade or higher whose PTA/PTSA is in good standing.
Intent to Submit forms are due January 15, 2020.
Final project submissions are due March 1, 2020.
Winners will be announced in April 2020.
Teams will register directly with WSPTA by completing an Intent to Submit form, due January 15, 2020. Students will upload their submission directly to the state level for judging. There is no fee for participation.
Questions? Email the Game Development Competition chair.