WSPTA Game Development Competition
---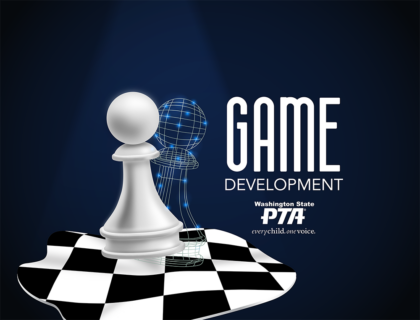 The WSPTA Game Development Competition is a STEM-based program, introduced in 2016, to encourage and support student success. Students attending a middle or high school with a PTA/PTSA in good standing may participate and share their knowledge and creativity based on an assigned theme.
The purpose is to provide an opportunity for students, either individually or in teams of up to six members, to use their creative talents and express themselves by developing a game, either a physical board game or a computer game. Students' submissions are judged in the following areas: best board game, best computer game, arts and animation, game design, programming (code), and audio design.
To ensure all students have an equal opportunity to participate (regardless of access to computers and programming classes) a new category was added in 2020, best board game. Students may now enter by creating a board game (this includes card games) so no prior knowledge of programming is required. All students will be able to showcase their creativity, determination, and game design skills.
The 2020-2021 winners are located on the Student Showcase page.
The theme for the 2021-2022 competition is Changing the World.
"If we could change ourselves, the tendencies in the world would also change. As a man changes his own nature, so does the attitude of the world change towards him… A wonderful thing it is and the source of our happiness. We need not wait to see what others do."
Mahatma Gandhi
The deadline date for submissions is March 1, 2022.
Registration - Submittal Process
Questions? Email the Game Development Competition chair.