107th WSPTA Convention Sponsors
---

Founded in 1989, Association Insurance Management (AIM) is a national marketing organization specializing in assisting associations to provide benefits and services to their members.  Our focus is on creating quality insurance programs for educationally-based non-profit associations.  The program provides coverage for activities such as concession stands, car washes, t-shirt sales, fun runs, carnivals, and other parent group-sponsored activities.
Contact Information: Association Insurance Management, PO Box 742946, Dallas, TX 75374-2946 — 1-800-876-4044 — www.aim-companies.com

As a member of the community, we take pride in helping others succeed. That's why it's important for us to give back to local organizations. They give others the tools to reach their full potential, while our philanthropic efforts give us the tools to stay connected where it matters most.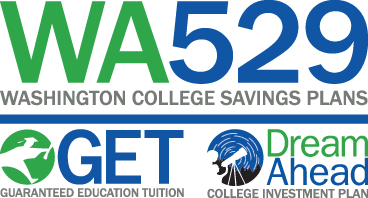 There's a way for everyone to save for college with Washington's 529 plans. Explore both options, GET and DreamAhead, to find the right plan for you. Both offer federal tax benefits and flexibility with how you use your savings.
---
WSPTA has created a virtual exhibit hall that will be available all year on the Marketplace page. Instead of booth space for one weekend, vendors are purchasing space on the page for one year. That means, next fall when you are planning a new event or program, you can easily refresh your memory on some of the opportunities provided by vendors for our PTAs.