Annual WSPTA Convention 2020
---
Mark your calendars now for this spring's event.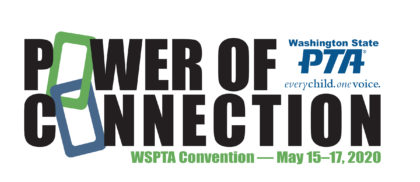 May 15-17, 2020
Lynnwood Convention Center
---
Dear PTA leaders and members,
On behalf of your Washington State PTA board of directors and staff, I would like to invite you to attend the 107th Annual WSPTA Convention taking place May 15-17, 2020 at the Lynnwood Convention Center.
Our program is designed to help you boost your power of connection with PTA. Attendees will have opportunities to connect with leaders from across the state to network, share successes and brainstorm fresh ideas.
As you have come to expect, this convention will provide:
Inspiring speakers focusing on diversity, inclusion and more
Classes that help you develop new skills and reach new levels of knowledge
Amazing student recognition and displays – Reflections, PTA Essay Contest, and more!
Exhibitors and sponsors to look for the next great assembly, fundraiser, or enrichment opportunity
Giveaways and special offers – exhibitors offer some great giveaways, plus there are fantastic door prizes given out at general sessions
Impressive scholarship baskets to bid on and support the WSPTA scholarship program for graduating seniors
Fun, free evening events
We've brought back some in-demand favorites in the form of two optional, ticketed events:
A banquet with yummy food and a much-loved speaker
Breakfast showcasing a selection of our award-winning children and youth
And, being our annual meeting, we will cover association business by:
Debating and voting on amendments to the WSPTA Uniform Bylaws, and on resolutions to add to our legislative platform.
Electing and installing both the WSPTA Nominating Committee at-large members and four members to serve the remaining one year term on the 2019-2021 Washington State PTA Board of Directors
It is my sincere hope that you make new connections at this year's convention. We hope everyone leaves this fun and information-packed weekend feeling energized to live out the WSPTA mission by being a powerful voice for all children; a relevant resource for families, schools and communities, and a strong advocate for the well-being and education of each child.
Thank you for all you do to advocate for every child!
Sincerely,
Janice Kutzera
WSPTA President, 2019-21