Family Engagement
---
Family Engagement
Well-informed, engaged parents make a difference for student success in school and beyond. Research shows that family engagement in a child's education increases student achievement, improves attendance, and reduces dropout rates.
Utilize this 2023-2024 multicultural calendar/calendario multicultural when planning family engagement activities for your PTA.
New resources: In conjunction with Learning Heroes check out the Ready to Team Up / Juntos Somos un Gran Equipo resources available on our new co-branded webpage.
---
Resources
The Center for Family Engagement
National PTA's "Notes from the Backpack" podcast series and a variety of blog posts are located on National PTA's website. Directly access your topic of interest:
Diversity, Equity, and Inclusion
An array of tools and techniques to enhance your current outreach and diversity initiatives. View the National PTA's diversity, equity and inclusion resources.
Four Principles of Transformative Family Engagement
An outline of how your PTA can become more inclusive, individualized, integrated, and impactful in its approach to family engagement. Learn more here.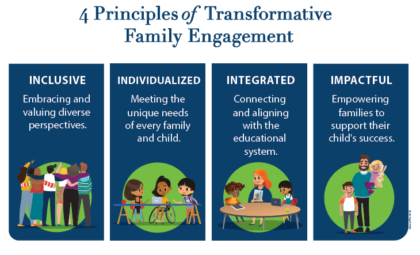 Male Engagement Toolkit
View the National PTA's Male Engagement Toolkit.
Military Alliance for Parents and Partners
A group of organizations that work together to provide resources to and advocate for military-connected families. View the National PTA's Military Alliance for Parent's and Partners.
National PTA Standards for Family-School Partnerships
PTA's National Standards for Family-School Partnerships set the bar for how schools and parent organizations work together to support student success.  The Standards have contributed to greater awareness and capacity for improving family-school partnerships across the country and internationally for over 20 years.  National PTA identifies six Standards that can help schools, PTAs and school districts improve their family-school partnerships so that all students can thrive:
Welcome All Families
Communicate Effectively
Support Student Success
Speak Up For Every Child
Share Power
Collaborate With The Community
National PTA School of Excellence
This is a recognition program that supports and celebrates partnerships between PTAs and schools to enrich the education experience and overall well-being for all students. View the National PTA's School of Excellence.
Translated Resources
National PTA has a wide range of resources available in Spanish.
Parent's Bill of Rights Available
Washington State Senator Lisa Wellman has prepared a K-12 Parent's Bill of Rights. This comprehensive document details the many rights accorded to parents in our state by state law.