2023 Remote Annual Business Meeting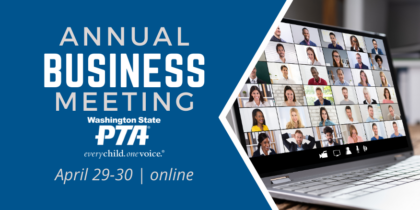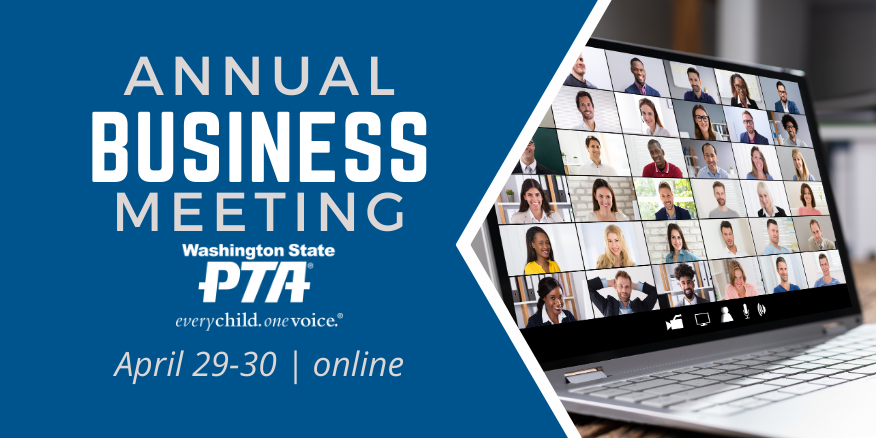 In order to better meet the preferences of our membership and satisfy the requirements of our bylaws, we have decided to reimagine Convention in 2023. On April 29 and 30 we will hold a FREE, remote, Annual Business Meeting. In this Annual Business Meeting we will vote on the 2023-2025 Board of Directors and proposed bylaws changes. Any WSPTA member may attend this meeting, but only verified delegates will be able to vote in the board election and on the bylaws changes.
The deadline for delegate registration closes April 12 at noon.
Tickets are available on our Eventbrite website.

Additional informational pages have been published:
General Information – This page contains registration and other basic information about the Annual Business Meeting.
Voting Information – This page contains the candidates for the 2023-2025 board of directors, the proposed bylaw amendments and the standing rules.
Schedule of Events – This page covers the activities for each day.
Washington State PTA strives to assure that all meetings and other activities of the Association are available for participation by all of its members, consistent with the Americans with Disabilities Act ("ADA") and the Washington State Law Against Discrimination (RCW 49.60).
Individuals requiring special accommodations to attend or participate in WSPTA meetings are requested to contact the office in advance: (253) 214-7410 or email.