WSPTA Legislative Assembly Voting Information
---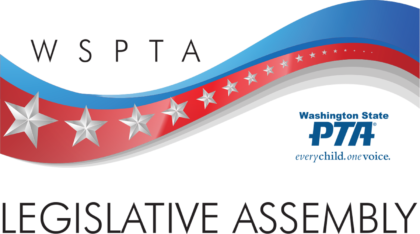 During the 42nd annual Washington State PTA Legislative Assembly, delegates decide the public policy positions that guide state and local advocacy work for WSPTA and its associated local PTAs and councils.
Delegates will vote on one new legislative principle, eight new legislative issues, eight new resolutions, and one amendment to an existing resolution. Legislative issues will also be ranked by delegates to determine a Top 5 for the 2021 and 2022 legislative sessions.
The 2020 Voters' Guide has been created to help delegates prepare for the caucusing and general sessions.
In addition, delegates will approve the standing rules that will govern the legislative assembly processes and procedures.
Delegate Information
Voting Delegate Authorization
The president for each PTA will be sent an email containing a link to a survey that must be used to identify authorized voting delegates. The survey form linked to the email will contain spaces for the number of delegates your PTA is allowed according to WSPTA bylaws. If a president is a voting delegate, you must include them in the list of delegates on this survey form.
Your list of delegates must be completed and submitted to the WSPTA office no later than 11:59 pm, October 6. If a president does not turn in the names by this date the attendees will not be eligible to be a voting delegate.
A voting delegate will not be able to vote for both a local PTA and a council. Each individual is allowed to represent only one PTA or Council. If the WSPTA office receives a duplicate name, we will let both the local PTA and the council know.
This survey form can be completed before or after the member registers. The on-screen confirmation for this form includes a link to the registration payment form for your convenience. Identifying a member as a delegate does not register the member to attend – a registration payment form must be completed.
Delegates must be a paid member of the PTA. The PTA must be in good standing.
Voting Delegate Responsibilities
You are voting on behalf of your local PTA/PTSA or council. Legislative principle, issue, and resolution education videos are available to help you understand the submitter's proposal. You also have the opportunity to share your opinions through caucusing.
Voting Delegate Information
The Voting Delegate Information document provides information to help you understand who can be a voting delegate and the difference between a voting delegate and an attendee.
Member Survey Information
Find Out What's Important to Your Members
Find out what is important to your members. We have made it easy for PTA leaders to survey your members with this e-survey. Just send the link out to your members.
WSPTA will send you the results for your school before legislative assembly starts to see your members' responses.
Your delegates can use these results to guide their votes along with the education and caucusing sessions available for all topics. This survey will provide great input to help your delegates represent your PTA. WSPTA recommends that PTAs provide the link to this survey several times and through a variety of methods. For the most representative results there should be over 20 responses.
Survey closes on October 9.
For local PTAs and councils in sharing the survey with members
Communications Kit to Members
What issues are most important to you?
Member voice matters — please take a few minutes and complete our  [insert your PTA or council name) PTA e-survey. There's a wide range of advocacy issues and we need your voice to help our PTA delegates vote on the Top 5 issues that are most important to us. The survey also includes other proposed positions that delegates will vote on to develop the WSPTA platform.  The issues all support the health, education, and welfare of children and youth but the proposed platform covers a wide spectrum of advocacy positions and legislative policies from increasing access to mental health to preventing gun violence and suicide to closing the digital divide. There are also eight resolutions with topics ranging from access to recess and unstructured play to improving outcomes in special education to dismantling institutional and systemic racism. Plus one new principle against racism, discrimination, and oppression.  Take the e-survey and let us know what's important to you.
There's also a WSPTA Voters' Guide to give you more information on all the issues as the survey just has the titles. Take a few moments to review that information as you take the e-survey.
Your replies will help guide our PTA's delegates when they vote at the upcoming WSPTA Legislative Assembly in late October where the new 2020-2021 Platform will be set.
Take a few moments to learn more about the proposed positions and share your priorities with us with the e-survey. But don't delay the e-survey closes on October 9.